Nächstes Symposium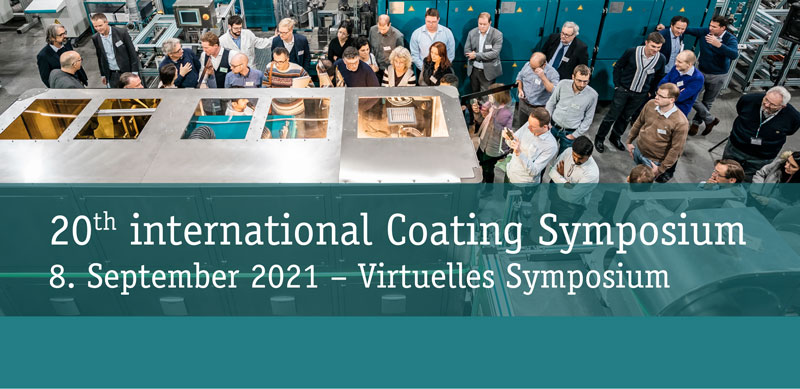 Das 20. internationale Symposium für Beschichten, Drucken und Laminieren.
2021 wird das Symposium zum 20. Mal stattfinden, und wir möchten Sie herzlich einladen, am 8. September 2021 an dieser Veranstaltung teilzunehmen.
Das Symposium wird wie auch im letzten Jahr als virtuelle Veranstaltung organisiert.
20. Symposium 2021
Programm
Program
Wednesday, September 8th, 2021
10.00 am – 10.25 am

Welcome
COATEMA COATING MACHINERY GMBH, Thomas Kolbusch / Director Sales, Marketing, Technology, VP
10.25 am – 10.50 am


Spatial ALD: from Lab to Fab
SALD Netherlands, Erik Kremers, CTO / System Architect

10.50 am – 11.15 am

NIR use in renewable technologies
LAMBDA TECHNOLOGY GERMANY, Gunther Ackermann / Managing Director

11.15 am – 11.35 am

Live streaming: Fuel cell ink coating at Coatema R&D centre

11.35 am – 11.45 am
Coffee break
11.45 am – 12.10 pm


New era of web tension PROFILE monitoring in coating lines
FMS FORCE MEASURING SYSTEMS AG SWITZERLAND, Jörg Inhelder/ CEO

12.10 pm – 12.35 pm


Flexographic printing for technology markets and converting
KROENERT GMBH GERMANY, Andrea Glawe / Regional Sales Director

12.35 pm – 1.00 pm


HyFab – PEM FC MEA production research at Fraunhofer ISE
FRAUNHOFER ISE FREIBURG GERMANY, Linda Ney / Process Integration – Structuring and Metallization

1.00 pm – 1.30 pm
Panel discussion
1.30 pm – 1.50 pm
Lunch break
1.50 pm – 2.15 pm

Coatema Industry 4.0 solutions
ARENDAR IT-SECURITY GMBH GERMANY, Jürgen Kreis

2.15 pm – 2.35 pm

Live streaming: Slot die coating trials at Coatema R&D centre

2.35 pm – 3.00 pm

Industry 4.0 – Artificial intelligence for control of coating processes
PANDA GMBH GERMANY, Michael Welsch / Managing Director and Head of AI

3.00 pm – 3.25 pm

Drying technologies
COATEMA COATING MACHINERY GMBH GERMANY, Thomas Exlager / R&D Manager

3.25 pm – 3.50 pm
Smart Glazing
TESA SE GERMANY, Dr. Daniel Klier / Lab Manager R&D Technology Center
3.50 pm – 4.10 pm

Live streaming: Registration trials at Coatema R&D centre

4.10 pm – 4.35 pm

Pushing the boundaries of registration alignment using IoT and data analysis
COATEMA COATING MACHINERY GMBH GERMANY, Harmen Rooms / Manager R&D and Dr. Julian Koc-Richter / R&D Manager

4.35 pm – 4.50 pm
Panel discussion
4.50 pm – 5.10 pm
Closing Remarks / Q&A
Thomas Kolbusch / Director Sales, Marketing, Technology, VP and all
Sprecher
Thomas Kolbusch, Vice President, Coatema Coating Machinery GmbH


Thomas Kolbusch is Vice President of Coatema Coating Machinery GmbH, an equipment manufacturing company for coating, printing and laminating solutions located in Dormagen, Germany.

He is member of the board of the OE-A (Organic Electronic Association) in Germany, a global association for printed electronics.

He serves in the advisory board of Fraunhofer ITA institute.

He served as member of the board of COPT.NRW, a local association in Germany, as well as exhibition chair of the LOPEC in Munich for five years. Thomas is active in the field of fuel cells, batteries, printed electronics, photovoltaics and medical applications. He organizes the international Coatema Coating Symposium for over 19 years and represents Coatema in a number of public funded German and European projects.
Thomas Kolbusch studied Business Economics at the Niederrhein University of Applied Sciences and got his degree as business economist in 1997. He started his career at 3M, Germany. Since 1999 he is working for Coatema Coating Machinery in different positions.

Erik Kremers, CTO / System Architect

After studying Mechatronics in 1997 Erik became involved in various High Tech Systemprojects in the semiconductor market and industrial printing developments. Here hegained a lot of experience with high accuracy positioning systems and fast industrialrobots. In 2012 Erik switched as a system architect to SoLayTec. In addition to thetechnical challenges as CTO, he is gradually more and more involved with organizationaland business challenges, which has led to the establishment of SALD.

Gunther Ackermann

Jörg Inhelder, CEO

Born November 1960 in Zürich
Schools in Zürich area
1980 – 1984 ETH Zürich Msc Electrical
1985 – 1987 Reliance Electric (now Rockwell) development of DC and AC drives with first power transistors
1988 head of force measuring department at FAG Kugelfischer in Zürich
1993 buyout of department, establish FMS Force Measuring Systems AG
Since then CEO of FMS Force Measuring Systems AG

Andrea Glawe, Regional Sales Director Asia-Pacific

Mrs. Andrea Glawe graduated in 1992 with the Master degree for "Technical textiles and process engineering" at the Technical University of Chemnitz. She started her career as scientific assistant and project for the Textile Research Institute Thüringen-Vogtland e.V. Greiz between and worked there until 2001.

From 2001 to 2011 she worked as Deputy Sales Director with responsibility for technical sales and project management at Coatema Coating Machinery GmbH in Dormagen.

Between 2011 and 2012 she took her responsibility as R&D leader DRYTEC GmbH & Co KG in Norderstedt.

Between February 2012 and September 2015 Andrea Glawe worked as Director R&D for all R&D activities of the KROENERT group in Hamburg and was responsible for Business Development. Since October 2015 she is responsible as Regional Sales Director for the Asian / Pacific market at KROENERT.

Linda Ney, Dipl.-Ing. Process Integration: Structuring and Metallization, Production Technology: Structuring and Metallization (PSM)

Linda Ney received her diploma in the field of renewable energy systems from the technical university of Dresden. Since 2017 she works at Fraunhofer ISE, focusing on the optimization of screens for solar cell manufacturing. In 2019 she started her PhD about the development of industry-related production processes for PEM-fuel cells, as well as evaluating the composition and rheology of catalyst inks and pastes.

Dr. Jürgen Kreis

With degrees in electrical engineering and industrial engineering, Juergen has more than 25 years of experience managing business units and companies for complex technology solutions. He has a broad technical understanding and resilient networks in semiconductors, electrical and optical metrology, machine vision, computer science, AI, nano-materials, and other areas.

With his own consulting company MARU International Business Consulting he has been working as a consultant for medium-sized companies since 2010. Addressed topics include the development of international sales organizations (esp. for Asian and NAFTA markets), M&A projects, identification of new technologies and suppliers, restructuring and intercultural competence. Since spring 2021, he is supporting Arendar IT-Security GmbH, responsible for sales and marketing as well as business development.

Michael Welsch, CEO

Michael Welsch, is co-founder, CEO and head of AI at PANDA. After his mechanical engineering degrees, he worked in the automotive sector in the areas of development, failure analysis and process optimization and moved from there into research. In 2016, he started developing a new machine learning approach for monitoring and analyzing production processes, which led eventually to the spin-off of PANDA GmbH in 2018. PANDA GmbH specializes in the integration of AI in industrial manufacturing.

Thomas Exlager, R&D Manager
Thomas Exlager studied Nano-Engineering at the University of Duisburg-Essen with his Bachelor in 2014 and Master in 2017.
During his studies he focused on optical and electrical characterization methods of Nanomaterials. In 2017 he joined Coatema as R&D Project Manager, coordinating national and European funded projects related to upscaling of roll-to-roll and roll-to-sheet processes for sustainable packaging, battery applications and nanoimprint lithography.
In 2020 Thomas changed his role in Coatema to that of a junior scientist, focusing on coating, drying, and structuring processes for thin and thick film applications as well as mathematical process modeling.

Dr. Daniel Klier

Harmen Rooms, Manager R&D
Harmen Rooms studied Applied Physics at the Fontys University in Eindhoven and received his Bachelor degree in 2003.
He worked at Philips N.V. in the field of electrooptical characterization of OLED devices and at OTB as measurement and analysis engineer. At TNO and Holst Centre he continued his work on OLEDs but also focused on modelling and optical simulations. During this time, he participated in the European Multiscale Modelling Platform (MMP) project. Harmen Rooms has co-initiated and worked on several local and European projects like CPV4All (Setting up pilot production of concentrated PV modules) and Clean4Yield (in-line measurement and yield control in Roll-to-Roll applications).
In 2018 he joined Coatema as Head of R&D Projects where he leads a team for coordination and execution of funded projects.
Abstrakt
Erik Kremers

Spatial ALD from Lab to Fab

In all growth markets, maximum throughput at the lowest possible costs is essential for success!

SALD has developed a unique technology that makes this possible, which is protected by several patents. This technology has been incorporated into a compact machine that can be used for research as well as for small-scale production. It does not matter which material is involved: battery electrode, solar cell, OLED or foil. Moreover, SALD is the only company in the world that has the expertise to subsequently quickly and reliably upscale the Spatial ALD technology to high volume production.
In Spatial ALD (SALD) precursors are continuously supplied in different locations and kept apart by an inert gas region or zone. Film growth is achieved by exposing the substrate to the locations containing the different precursors. The process is very fast and compatible with fast-throughput techniques such as roll-to-roll (R2R), and is versatile and cheap to scale up. In addition, one of the main assets of SALD is that it can be performed at ambient pressure and even in the open air, while not compromising the deposition rate.

Gunther Ackermann






Jörg Inhelder

New era of web tension PROFILE monitoring in coating lines

Measurement of tension in web materials is well known since decades. The development focus was on precision of the loadcells and amplifiers with higher resolution, shorter cycle times and communication interfaces. State of the art is one loadcell on each side of an idler roller. Evaluation in the electronic unit can be sum / average of both signals or also independent evaluation of left/right signals. This allows an accurate measurement of the (overall) tension in a web. But it does not give any information about the lateral distribution of tension across the web. Although very often a web material does not have the same properties across the web (humidity in the material, thickness = gauge etc).

With production processes requiring tighter and tighter tolerances this information is no longer sufficient. Especially with wider webs one needs to ensure that the material properties are the same all over the web width. This can be measured by a multitude of loadcells across the web. With such a measurement (monitoring) device it is possible to do a real-time analysis of the tension profile / distribution across the web. You can also detect loose edges, one-side tension concentration, repeating patterns over time / length. This measurement is the base for improving previous (upstream) processes and in addition it allows the qualification of different rolls according to their consistency of tension across the web. The operator can influence the process based on the measurements (web guiding, banana rollers etc) and also document the results through standard interfaces. This new system, the FMS-segFORCE introduces a new era of web tension profile monitoring.

Andrea Glawe

Flexo graphic printing for technology markets and converting

Flexibility and challenging solutions are required for coating lines. Printing processes are often integrated in converting lines to give added value to the machine. Logo print in silicone release liner coating lines is a standard solution and even pattern silicone application is realized within fast running coating lines. And flexo printing processes are used in challenging applications too such as design application for battery electrodes and even printed electronics applications. KROENERT will give with the presentation an overview about flexo graphic printing technology and application samples for high-speed converting machines but also for high-end solutions like printed electronics.

Linda Ney

HyFab PEM fuel cell MEA production research at ISE

Today's PEM fuel cell catalyst production research addresses the challenges of upscaling and optimizing the fabrication process, which includes increasing throughput rates while maintaining quality demands. Within the project HyFab we are addressing these challenges and establish production related competences in the field of hydrogen technologies together with the Center for Solar Energy and Hydrogen Research Baden-Württemberg (ZSW). At Fraunhofer ISE, we are investigating the whole production line coming from the catalyst ink, applying flatbed screen printing and the transfer process to manufacture membrane electrode assemblies. Different ex-situ quality control measurements are shown to evaluate correlations of coated catalyst layer and catalyst ink properties. Finally, the fabricated fuel cells are characterized electrochemically during operation.

Dr. Jürgen Kreis

Michael Welsch
Thomas Exlager

Industrial drying processes are generally driven empirically and finding the right drying conditions can be resource and time consuming. A general reduction in cost can be accomplished by understanding the fundamentals of heat and mass transfer to model the drying process and find a suiting starting point for empirical trials. Furthermore, general benchmarking of different drying methods (optical, convective, …) can be estimated through process modelling. This talk will cover the fundamentals and the application of high-performance convection drying and the advantages and disadvantages of optical drying methods in comparison. In addition, typical drying defects and their origin will be discussed as well as the advantages of typical solvents in ink formulation regarding the drying process.


Dr. Daniel Klier

Harmen Rooms

FP22 – Registration Offcode / VTT and data analysis (Brunel)

In the industry of printed electronics alignment of the printed structures is a mandatory aspect. The goal is to achieve registration alignment of 10 micrometer or better in the coming years. For more than 10 years, Coatema is working together with Offcode Oy. as a strategic partner to develop a registration system that meets the needs of the printed electronics industry. As part of several funded projects, such as REGAC, Smartonics, Supersmart and OLED Solar, Coatema has been working to improve the alignment accuracy by improving its machinery design. Now with advances in data collection of different conditions such as temperature, humidity and vibration, data analysis can be performed and will be the used to understand the error causes even better, thereby moving toward the needed accuracy for e.g. printed transistors.